EVAMOR VALLEY
Luxury eco-glamping accommodation in Mudgee
Located on a stunning 34 hectare farm property alongside the Cudgegong River, just minutes from Mudgee's CBD and wineries, Evamor Valley offers guests the chance to get back to nature in style.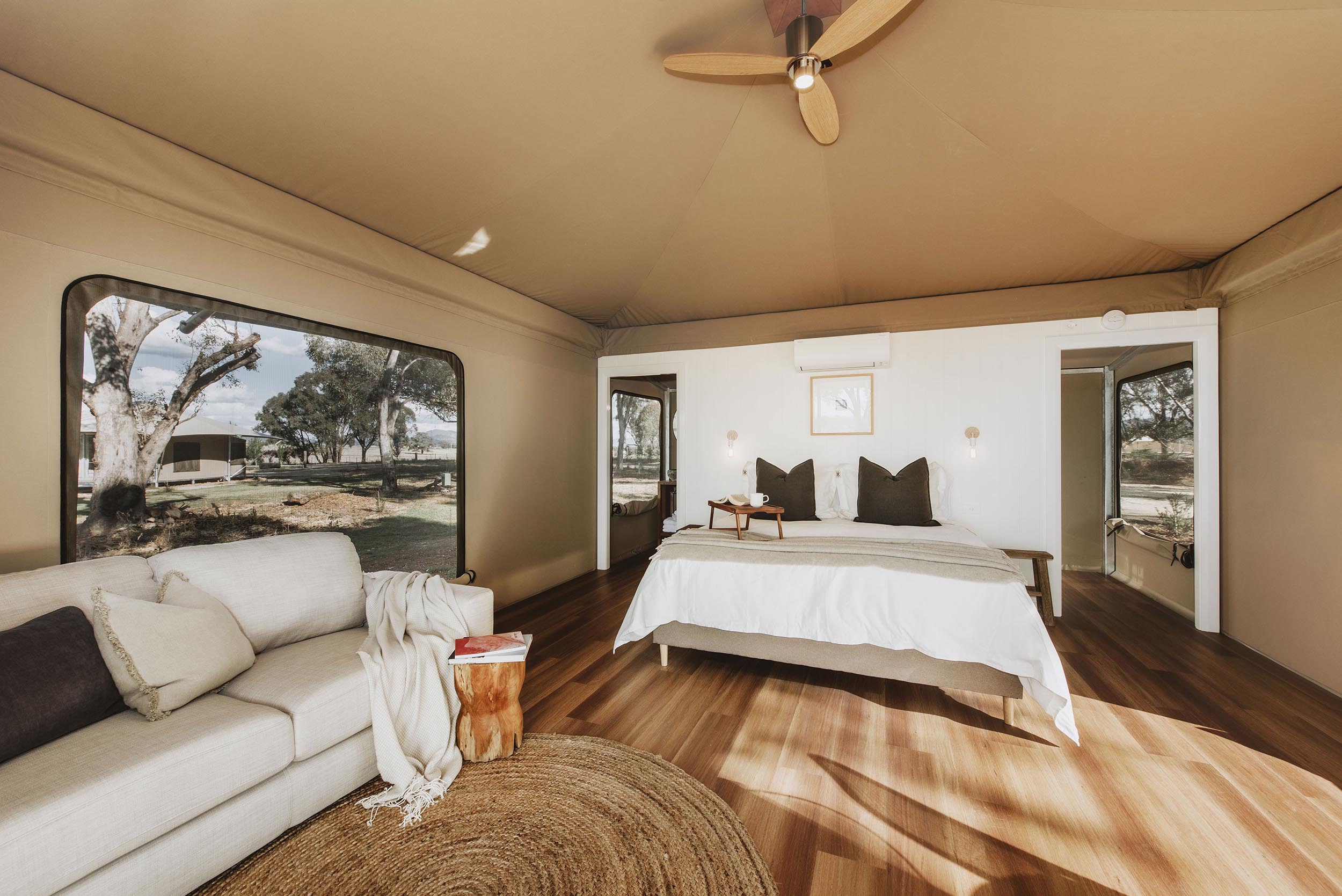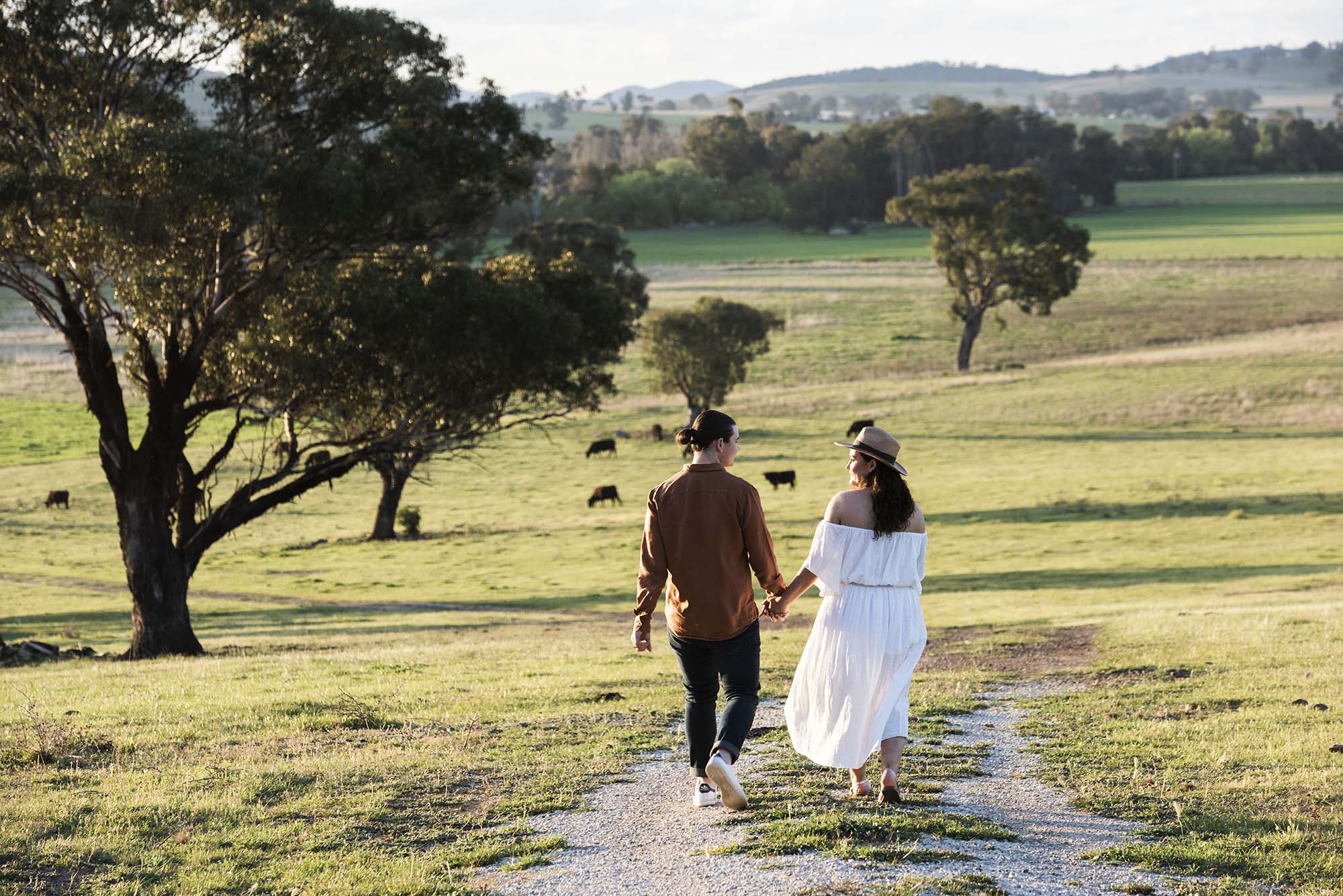 EXPLORE YOUR SURROUNDINGS
Wander and explore the property's rich cultural and natural history with self-guided walks, taking in the location's stunning natural surrounds.  
In the evening, relax by the fire pit, or enjoy sunset drinks on your private deck – it's all about finding your luxury outdoor adventure at Evamor Valley.
Owners Chad and Charmaine Hurrell purchased Evamor Valley in 2016, after falling in love with the Tinja Lane property, its history and its close proximity to the Mudgee CBD and wineries. The couple and their two daughters undertook the ambitious task of restoring the farm to its former glory, driven by a deep respect for its heritage and an unwavering commitment to its future.
But what to call this new venture? Evamor is a loving tribute to Chad and Charmaine's two daughters Eva and Morgan. A fusion of their namesakes, Evamor (or Eva-MORE as guests have fondly dubbed it!) pays homage to the girls, who have long called the property home, and the essence of our family's love for them and this land.
Our journey has been one of growth, transformation & love – each step has been a labour of passion, with a shared vision that goes beyond bricks & mortar.
The vision for Evamor Valley is a truly immersive accommodation experience, with luxuriously designed eco-tents, set amongst the beauty of the natural landscape.
The farm is our happy place: a place of love & passion, a place we escape, rejuvenate & enjoy the stillness. We hope it becomes your happy place too…
Evamor Valley affords its guests a world away from the city chaos. The tents have been carefully located to ensure privacy, while offering proximity to the property's stunning natural surrounds. All tents are fitted with private hot tubs, while all six tents offer a private deck, fire pit, BBQ and expansive country views. Each tent is lovingly fitted with lush décor: from buttery smooth sheets to a gorgeous stone sink and gold tapware, every element is designed with pure relaxation in mind.  Even better – Evamor Valley is a stone's throw from some of Mudgee's best wineries, restaurants, shopping and outdoor locations, making it the perfect place to stay for the ultimate getaway.
From warm waters to crackling fires, every moment becomes an invitation to unwind and create treasured memories. Evamor Valley offers an exquisite sanctuary, where luxury and nature intertwine, crafting an experience that transcends ordinary stays.
Our luxury eco-glamping experience is a tapestry woven with threads of luxury, culture and heritage, & nature's splendour, shaped by our passion and unwavering love for the land.
Each guest is welcomed as part of our extended family and has become part of our narrative – they've each woven a remarkable tale of connection, rejuvenation, & discovery. 
Evamor Valley would like to acknowledge the Wiradjuri people who are the Traditional Custodians of the Land
We would also like to pay respect to the Elders both past and present of the Wiradjuri nation and extend that respect to other indigenous Australians who are present.
SHARE YOUR PHOTOS WITH US
@evamorvalley and #evamorvalley